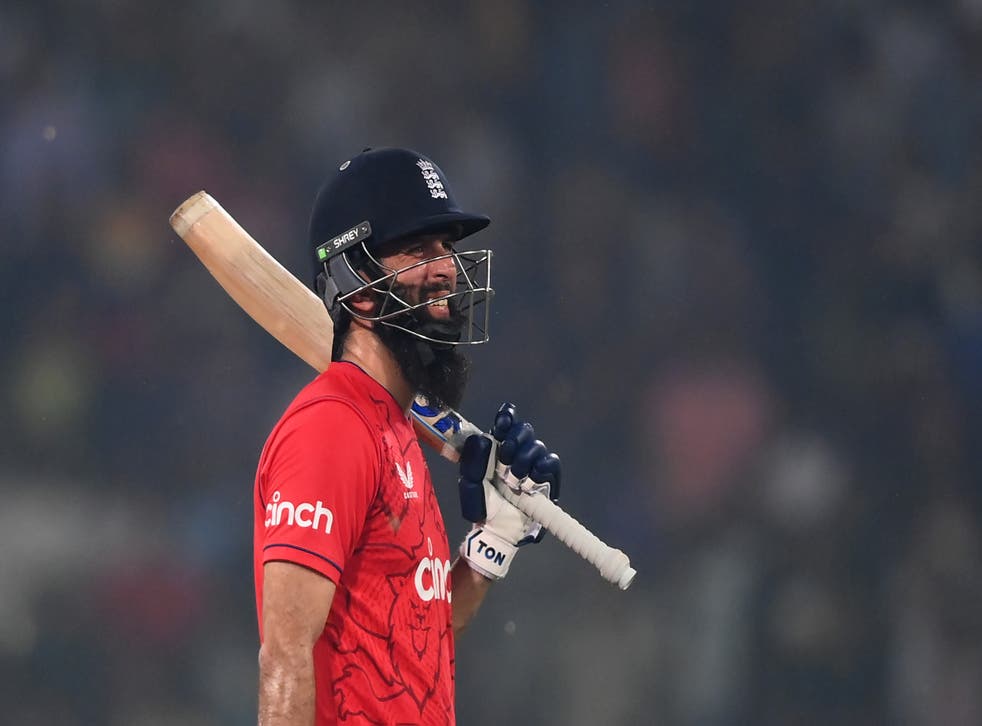 (Getty Images)
England have no room for manoeuvre if they want to be triumphant in their seven-match T20I series against Pakistan. The hosts won the fifth game on Wednesday evening in a low scoring contest and now lead the series 3-2 with two matches to play.
Batting first, Pakistan set England a reachable target of 147 from their 20 overs but a collapse in the powerplay saw them fall to 31-3 with Alex Hales, Phil Salt and Ben Duckett all going cheaply. England managed to recover thanks to Moeen Ali's 51 not out but they required 15 runs from the final over and some brilliant death bowling from debutant Aamir Jamal saw them fall eight runs short of victory.
This defeat comes on the back of another failed chase in the fourth T20I where England lost by four runs after Reece Topley ran himself out with five balls left in the innings. The tourists should have won both games and the consequence of these losses mean England must win the final two matches in Lahore to be victorious in the series. Can they get the job done this evening?
Follow all the action from the sixth T20I between Pakistan and England in Lahore:
1664554423
Wicket! Mohammad Nawaz 12 (7) c. Brook b. Topley, Pakistan 169-6 (20)
The innings comes to an end with a wicket for Reece Topley. Mohammad Nawaz attempts to launch another one into the crowd but picks out Harry Brook and long off.
1664554347
Pakistan 169-5 (19.5), Babar 87, Nawaz 12, Topley 0-31 (3.5)
Four runs! Topley attempts a slower ball bouncer but Babar gets inside it and hooks the ball away for four to the fine leg boundary!
Pakistan's captain is teeing off! The next ball is full and Babar smokes it over long leg for six! A thick edge then brings him another couple. That's 12 runs from the first three balls.
A better delivery from Topley brings a leg bye but more importantly gets Babar off strike with two balls to go. What can Nawaz do here?
It's huge! Nawaz rocks back and mullers Topley into the stands! Six more! This is a massive over for Pakistan. 19 from it so far...
1664554040
Pakistan 150-5 (19), Babar 75, Nawaz 6, Curran 2-26 (4)
Sam Curran will bowl the penultimate over for England. He's had a great night so far but can he finish it off? Babar takes him for one but a hoick across the line brings Nawaz two runs... Reece Topley does brilliantly on the boundary to keep the ball from crossing the line.
A slower ball from Curran almost does for Nawaz but he manages to drive it for one to get Babar back on strike.
Four runs! A much needed boundary comes for Pakistan and Babar drops back into his crease and pulls the ball away to the deep midwicket boundary.
Pakistan's 150 comes up as well with a leg bye. One over to go!
1664553741
Pakistan 141-5 (18), Babar 70, Nawaz 3, Topley 0-13 (3)
Reece Topley has two overs to go and starts well against Babar Azam. Two wide deliveries bring dot balls before the captain collects a single for the hosts.
Nawaz blocks one into the legside and gets off the mark before an inside edge from Babar skews the ball into the slip cordon for another one.
Just five runs come from the over as Nawaz scrambles back for two from the last ball.
1664553503
Wicket! Asif Ali 9 (9) c. Topley b. Willey, Pakistan 136-5 (17)
Got him! Willey finishes with a wicket as Asif Ali uppercuts a short ball over to the fielder at the deep point boundary. Reece Topley is there and he clings onto the catch.
1664553409
Pakistan 136-4 (16.3), Babar 68, Asif 9, Willey 1-32 (3.3)
A full toss from David Willey is guided behind square by Babar Azam and some great fielding on the boundary from Sam Curran keeps it to two runs.
Another low full toss is pounced on this time and Babar drills it over extra-cover for six runs! Pressure on Willey.
He responds with a short ball that Pakistan's captain slaps away for one.
1664553102
Pakistan 127-4 (16), Babar 59, Asif 9, Gleeson 1-39 (4)
Four runs! Gleeson is brought back on and bangs a short ball in at Asif who hooks him away to the legside boundary for four! Another short ball catches the edge but the ball lands safely down to third man.
Oh my! Gleeson pushes one fuller and Babar Azam laces a huge drive over the top and clears the ropes for six runs! That's 3000 runs in T20I cricket for Babar who reaches the landmark in just 81 innings - a joint record with India's Virat Kohli.
14 runs from the over. Pakistan move back in control of the innings.
1664552846
Pakistan 113-4 (15), Babar 51, Asif 3, Curran 2-18 (3)
Asif Ali is the incoming batter and he works Curran away from three runs from the remaining three deliveries of the over. A wicket and five runs from the over.
Well bowled Sam Curran.
1664552723
Wicket! Iftikhar Ahmed 31 (21) c. Brook b. Curran, Pakistan 110-4 (14.3)
Yes it is! Iftikhar Ahmed tries to punt Curran over the fielder at long leg but he doesn't get the ball out of the middle of the bat and sends it straight down the throat of Harry Brook.
Sam Curran has another wicket!
1664552615
Pakistan 110-3 (14.2), Babar 51, Iftikhar 31, Curran 1-15 (2.2)
Sam Curran has probably been England's best bowler tonight. He's mixed up his pace and his lengths keeping the batters guessing. Both Babar and Iftikar can only work him away for ones.
Registration is a free and easy way to support our truly independent journalism
By registering, you will also enjoy limited access to Premium articles, exclusive newsletters, commenting, and virtual events with our leading journalists
Already have an account? sign in
Registration is a free and easy way to support our truly independent journalism
By registering, you will also enjoy limited access to Premium articles, exclusive newsletters, commenting, and virtual events with our leading journalists
Already have an account? sign in
Subscribe to Independent Premium to bookmark this article
Want to bookmark your favourite articles and stories to read or reference later? Start your Independent Premium subscription today.