Two cosmonauts and a NASA astronaut undocked from the International Space Station early Wednesday and headed for landing on the steppe of Kazakhstan to close out an unexpected yearlong stay in space, the longest single flight in U.S. space history.
With Soyuz MS-69/23S commander Sergey Prokopyev monitoring cockpit displays, flanked on the left by co-pilot Dmitri Petelin and on the right by NASA flight engineer Frank Rubio, the Russian ferry ship undocked from the space station's multi-port Prichal module at 3:55 a.m. EDT.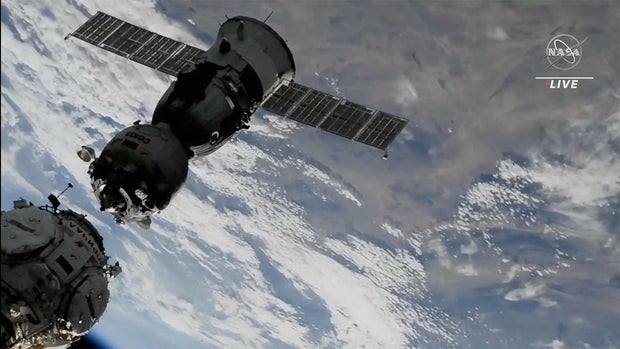 The Soyuz MS-23/69S spacecraft, carrying Sergey Prokopyev, Dmitri Petelin and NASA astronaut Frank Rubio backs away from the International Space Station on Sept. 27, 2023, kicking off a 3-hour 23-minute descent to landing on the steppe of Kazakhstan to close out a 371-day mission, the longest in U.S. space history.
NASA Television
After backing a safe distance away from the lab complex and waiting to reach the precise point in space to begin the descent, the spacecraft was expected to fire its braking rockets for four minutes and 39 seconds starting at 6:24 a.m., slowing the ship's 17,100-mph velocity by about 286 mph.
That's just enough to drop the far side of the orbit deep into the atmosphere, putting the ship on course for landing.
After separating from the upper orbital compartment and lower propulsion and power module, the central crew compartment, the only one protected by a heat shield, will hit the top of the discernible atmosphere, 62 miles up, at 6:55 a.m.
Exiting the extreme re-entry heating zone, the spacecraft is expected to deploy its main parachute at an altitude of about six miles, settling to touchdown on the steppe of Kazakhstan near the town of Dzhezkazgan at 7:17 a.m. EDT (5:17 p.m. local time).
Expected mission duration: 370 days, 21 hours and 22 minutes in a voyage spanning 5,936 orbits and 157 million miles.
Asked what he looked forward to the most once back on Earth, Rubio, a father of four, said "hugging my wife and kids is going to be paramount. And I'll probably focus on that for the first couple days."
"We're blessed enough to have kind of a quiet backyard," he added. "And I think just going out in the yard and enjoying the trees and the silence. Up here, we kind of have the constant hum of machinery. ... So I'm looking forward to just being outside and enjoying the peace and quiet."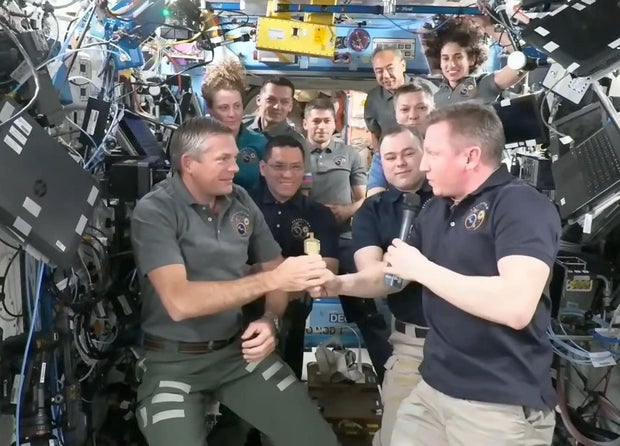 Outgoing space station commander Sergei Prokopyev hands over command of the International Space Station to European Space Agency astronaut Andreas Mogensen. along with a symbolic key to the lab complex, during a brief ceremony on Sept. 26, 2023. Prokopyev, Dmitri Petelin and NASA astronaut Frank Rubio (all three wearing black shirts, Rubio at left) have spent a U.S. record 371 days in space.
NASA Television
When Rubio and his cosmonaut crewmates launched on Sept. 21, 2022, they expected to spend six months aboard the International Space Station, the normal tour of duty for a long-duration crew.
But a coolant leak disabled their Soyuz MS-22/68S ferry ship last December, prompting the Russians to launch a replacement -- Soyuz MS-23/69S -- last February. That meant Prokopyev, Petelin and Rubio had to stay aloft an additional six months to put the Russian crew-rotation schedule back on track.
"On a personal level, it was pretty tough, just because I was missing my family and I knew I was going to miss some pretty big milestones, for my kids, especially," Rubio said in an interview from orbit with The Associated Press.
"Birthdays, anniversaries, my son's going to head off to college this year, my oldest daughter is finishing up her first year of college," he added. "We've tried really hard to stay in touch with one another. ... My wife, my kids, they've been troopers, and they've really handled it incredibly well.
"And how well they've handled it has made it easier for me to just focus on work and make do with with the hand we've been dealt."
During a brief change-of-command ceremony Tuesday, ISS Expedition 69 commander Prokopyev turned the lab over to European Space Agency astronaut Andreas Mogensen.
Speaking to the departing crew members, Mogensen offered congratulations, saying, "You have shown resilience, professionalism and grace in the face of unexpected challenges and significant uncertainty."
"It's one thing to launch to space, knowing that you're going to be up here for a year," he added. "It's a completely different thing for you and your families to find out towards the end of your six-month mission that you're going to be spending an additional six months in space. But you took it upon your shoulders, and you excelled."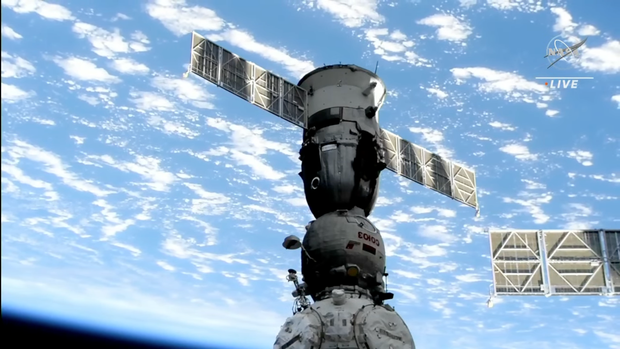 The Soyuz MS-23/69S spacercraft, docked at the International Space Station's multi-port Prichal module. The ferry ship was launched without a crew in February to provide a ride home for Prokopyev, Petelin and Rubio after their original Soyuz was disabled by a coolant leak in December 2022. The replacement forced to crew to extend their stay aboard the station by six months.
NASA
He thanked Prokopyev, Petelin and Rubio for their "competence, dedication and hard work" keeping the station shipshape and "setting us up for success" in ISS Expedition 70.
"We hope to leave the space station is as good as condition as we found it," Mogensen concluded. "No one deserves to go home to their families more than you."
Prokopyev, Petelin and Rubio were replaced by Soyuz MS-24/70S commander Oleg Kononenko, flight engineer Nicolai Chub and NASA astronaut Loral O'Hara, who arrived at the space station on Sept. 15.
Mogensen flew to the station on Aug. 26 aboard a SpaceX Crew Dragon spacecraft along with NASA's Jasmin Moghbeli, Japanese astronaut Satoshi Furukawa and cosmonaut Konstantin Borisov.
Russian recovery crews, along with U.S. flight surgeons and support personnel, were standing by at the Soyuz landing site in Kazakhstan to help the returning crew out of the cramped decent module as their bodies begin re-adjusting to the unfamiliar strain of gravity after a full year in weightlessness.
Like all long-duration station crew members, all three men spent about two hours per day exercising to stay in the best shape possible. Even so, Rubio said it likely will take them several months to get their land legs back.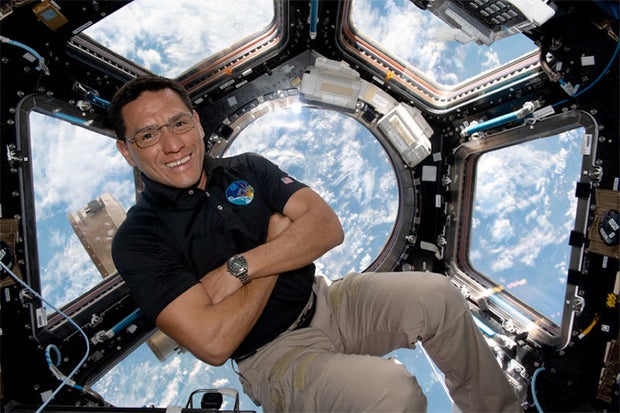 Frank Rubio, who now holds the record for the longest single flight in U.S. space history, poses in the space station's multi-window cupola compartment.
NASA
"Your vestibular system is probably the most affected," he said. "And then after that, really, it's a couple of months to regain your strength. Our trainers do a great job of keeping us in shape up here. But the reality is we're not standing, we're not walking, we're not bearing our own weight.
"And so it just takes some time to get your bones and your muscles used to doing that consistently back on Earth. So it'll be anywhere from two to six months before I essentially say that I feel normal."
After initial medical checks at the landing site, the Soyuz crew will be flown by helicopter to the city of Karaganda, where Rubio will board a NASA Gulfstream jet for the long flight back to the Johnson Space Center in Houston. The cosmonauts will be flown to Star City near Moscow aboard a Russian jet.
The late cosmonaut Valery Polyakov holds the world record for the longest single spaceflight, a 438-day stay aboard the Russian Mir space station in 1994-95. Prokopyev, Petelin and Rubio will move to No. 3 on the list, just behind retired cosmonaut Sergei Avdeyev, who logged a 380-day stint aboard Mir in 1998-99.
The longest previous U.S. flight was carried out by Mark Vande Hei, who spent 355 days aboard the International Space Station in 2021-22.
In:

Spacewalk

International Space Station

Space

NASA
William Harwood

Bill Harwood has been covering the U.S. space program full-time since 1984, first as Cape Canaveral bureau chief for United Press International and now as a consultant for CBS News. He covered 129 space shuttle missions, every interplanetary flight since Voyager 2's flyby of Neptune and scores of commercial and military launches. Based at the Kennedy Space Center in Florida, Harwood is a devoted amateur astronomer and co-author of "Comm Check: The Final Flight of Shuttle Columbia."
Thanks for reading CBS NEWS.
Create your free account or log in
for more features.