The prime suspect in the murder of a Muslim man in Albuquerque has been detained, Police Chief Harold Medina tweeted on Tuesday. Four Muslim men have been murdered in the region in the past few months, and officials say their deaths may be related.
"We located a vehicle believed to be involved in the recent murder of a Muslim man in Albuquerque," said Medina . is the prime suspect in the."
The suspect was not immediately identified.
His fourth unidentified victim was killed on Friday night . Police on Saturday said he was looking for a dark four-door Volkswagen, possibly a Jetta or a Passat.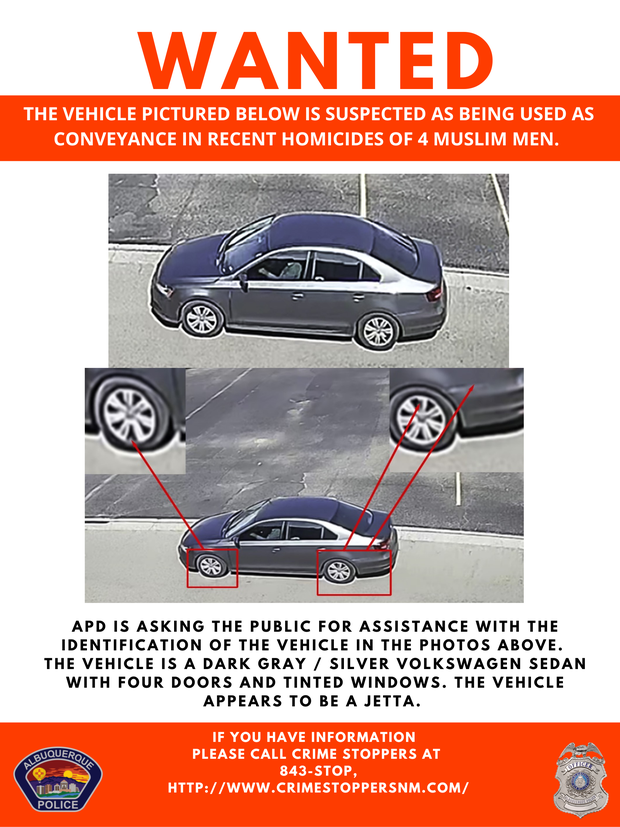 The Albuquerque Police Department is seeking help in identifying the vehicle suspected of killing four Muslim men.

Albuquerque Police Department Mayor Tim Keller said police believed the vehicle was used in Friday night's killings. .

"We have some information about what happened," Keller told reporters on Sunday. "We have a strong lead. Vehicle of interest. We don't know what it is related to or who owns it."

Friday night The killings are likely related to three ambush-style shooting killings of Muslim men, Medina said Saturday.

According to the Albuquerque Journal, 27-year-old Muhammed Afzaal Hussain was shot dead on his Aug. 1 and Aftab Hussein, 41, both from Pakistan. and was a member of the same mosque.

Their deaths followed the November 2021 murder of Muhammad Ahmadi, 62, a South Asian Muslim. Ahmadi was killed behind a market and cafe he owned with his brother.

A series of murders rocked Albuquerque's Muslim community. Police on Sunday said it was too early to know if the murders would be classified as hate crimes.

announced a $10,000 reward for information leading to an arrest.

Authorities are expected to provide an update on the incident on Tuesday afternoon.