Trump pushing Biden impeachment
Former Joe Biden 2020 campaign manager Lucy Caldwell and National Review senior political columnist Jim Geraghty join Howard Kurtz to discuss Trump's push for Biden's impeachment in talks with House Republicans.
Donald Trump doesn't have a hidden agenda.
He lays it right out there.
He's going to get even with his political enemies if he wins back the White House.
WHAT PRESIDENTIAL PRIMARIES? MEDIA SAY THE CONTESTS ARE DONE
And on the short list: "THE ENEMY OF THE AMERICAN PEOPLE."
Trump going back to attacks on the media, which his base detests, would ordinarily not be big news.
But when he's threatening to lift TV licenses, it breaks through the static.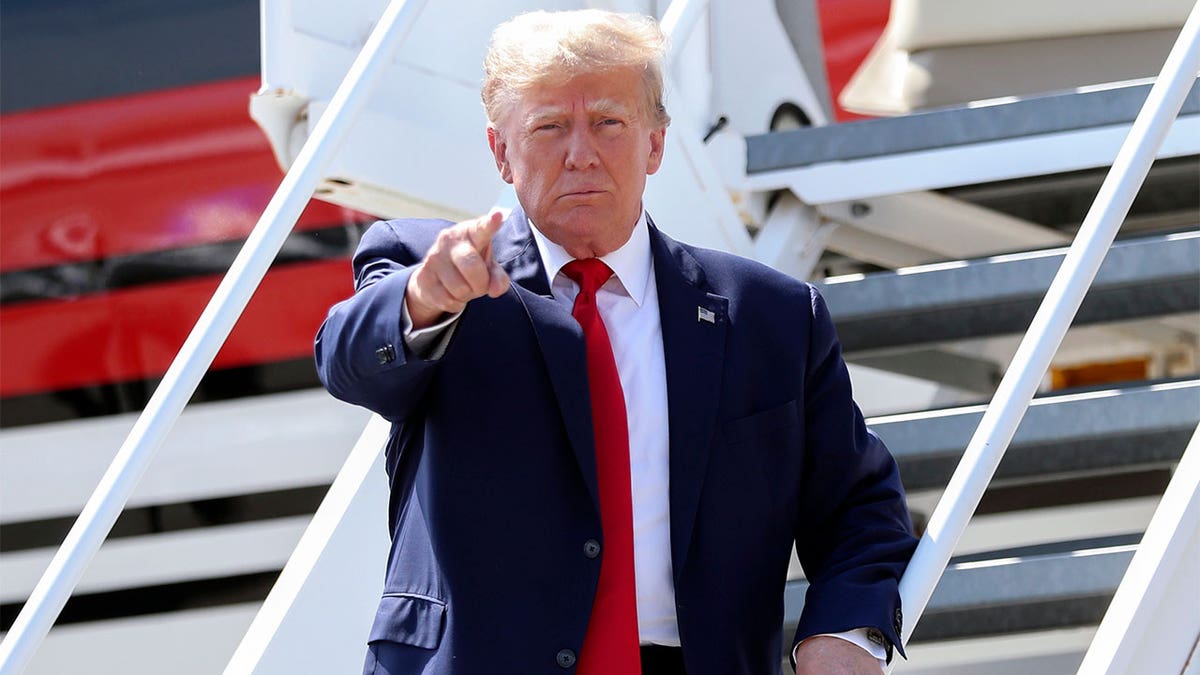 Former President Donald Trump points to his supporters as he arrives at Atlantic Aviation CHS in North Charleston, S.C., Monday, Sept. 25, 2023. (AP Photo/Artie Walker Jr.)
"They are almost all dishonest and corrupt, but Comcast, with its one-side and vicious coverage by NBC NEWS, and in particular MSNBC, often and correctly referred to as MSDNC (Democrat National Committee!), should be investigated for its 'Country Threatening Treason'…
"I say up front, openly, and proudly, that when I WIN the Presidency of the United States, they and others of the LameStream Media will be thoroughly scrutinized for their knowingly dishonest and corrupt coverage of people, things, and events."
He's not done: "Why should NBC, or any other of the corrupt & dishonest media companies, be entitled to use the very valuable Airwaves of the USA, FREE? They are a true threat to Democracy."
WHY TRUMP'S MIDDLE GROUND ON ABORTION IS SHREWD, BUT CAN'T PLEASE EVERYONE
And it had the desired effect. MSNBC has been battling back on the airwaves. The White House issued a statement. Trump never said what the "treason" was. But he knows that when he goes too far, that will get traction in the news cycle. He also knows that such harsh language might seem too menacing on television, so he reserves it for Truth Social.
As a LameStream representative, I'm not going to get all wound up about Trump vowing to go after NBC, which I believe was prompted by his "Meet the Press" interview, because who knows whether he would indeed retaliate or the courts would let him do it. He's a candidate tossing out red meat for his base.
The statement from White House spokesman Andrew Bates: "To abuse presidential power and violate the Constitutional rights of reporters would be an outrageous attack on our democracy and the rule of law."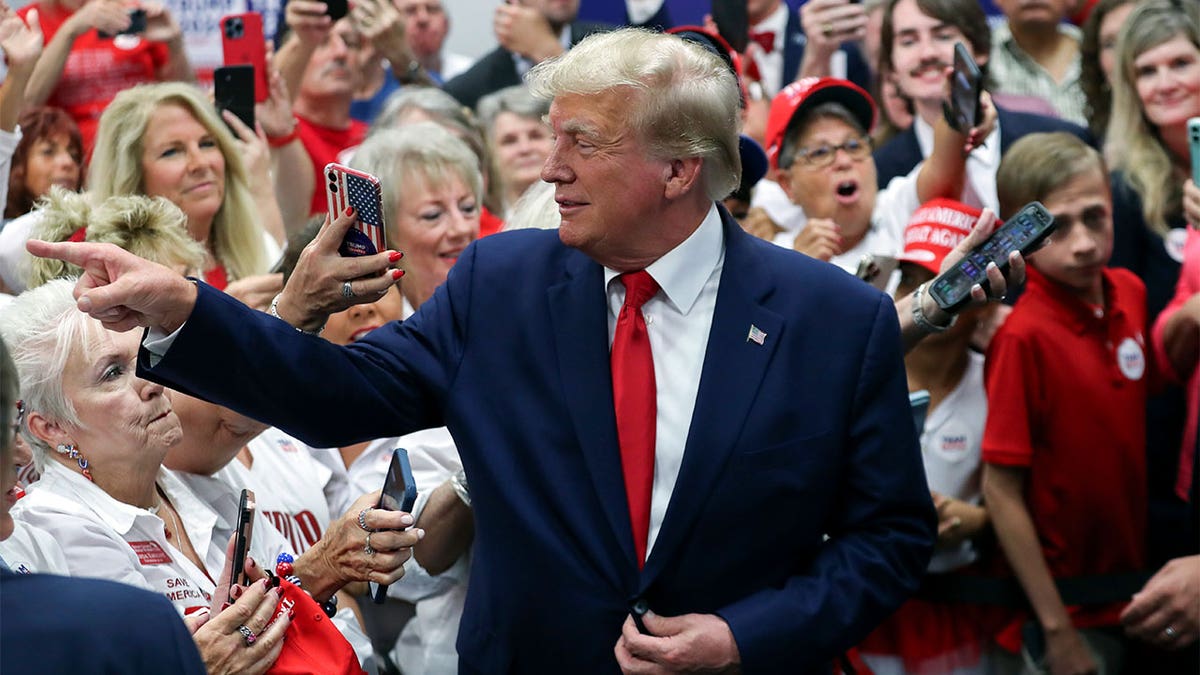 Former President Donald Trump points to a supporter and smiles while visiting a Trump 2024 campaign office in Summerville, S.C., Monday, Sept. 25, 2023. (AP Photo/Artie Walker Jr.)
But what a missed opportunity for his boss. He should have gotten in front of the cameras and denounced an attack on the free press. Then his words would have driven the news agenda for a couple of days. But that's not the Biden way, and it's why he often seems to be a bystander as events unfold.
By the way, while making no overt threats, Trump yesterday continued taking jabs at Fox, calling "Fox & Friends" "totally unrecognizable. All they do is 'gush' over job seeking candidates that are 50 Points, plus, down to your favorite President." But does that mean they shouldn't be covered, especially with the Fox Business debate airing tonight?
Trump's inflammatory language hasn't been aimed only at the networks. There's also Gen. Mark Milley, the retiring chairman of the Joint Chiefs.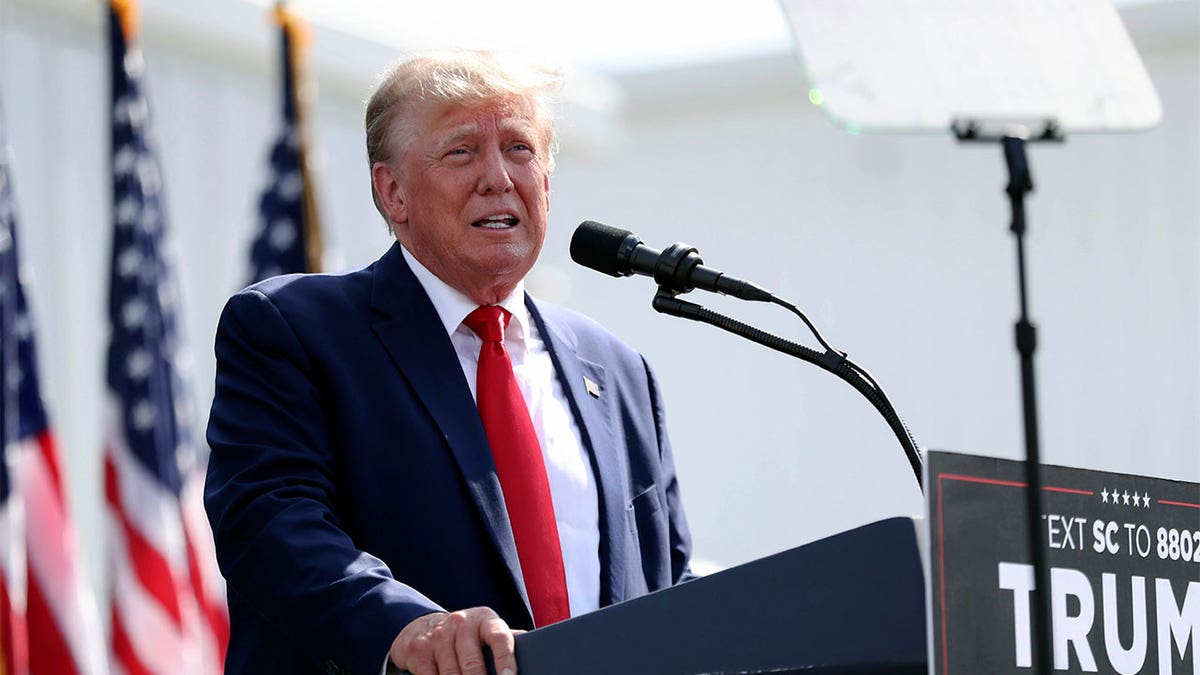 Former President Donald Trump speaks at a rally in Summerville, S.C., Monday, Sept. 25, 2023. (AP Photo/Artie Walker Jr.)
Now in fairness the former president was counter punching. Milley, who frequently clashed with Trump, said all kinds of unflattering things about his ex-boss in an interview with the Atlantic Editor-in-Chief Jeffrey Goldberg.
When Trump was angry with protestors at the White House – and staged a Bible photo op at the church next door which Milley had to break away from – he says the president asked: "Can't you just shoot them? Just shoot them in the legs or something?"
On Truth Social, after decrying Milley for leading "perhaps the most embarrassing moment in American history with his grossly incompetent implementation of the withdrawal from Afghanistan," Trump escalated:
"This guy turned out to be a Woke train wreck who, if the Fake News reporting is correct, was actually dealing with China to give them a heads up on the thinking of the President of the United States. This is an act so egregious that, in times gone by, the punishment would have been DEATH!"
Trump did not, as some headlines had it, call for Milley's execution. But detractors say he may have jeopardized the general's safety. What's more, he may be a witness in one of the Trump trials.
Milley has testified that in late 2020 and early 2021, he made a set of calls to his Chinese counterpart, in coordination with other top officials, after the intelligence community reported that China's rulers feared a U.S. attack as likely.
SUBSCRIBE TO HOWIE'S MEDIA BUZZMETER PODCAST, A RIFF ON THE DAY'S HOTTEST STORIES
Trump has made so many attacks on DOJ special counsel Jack Smith and Georgia prosecutor Fani Willis, using words like "deranged," "racist" and "thugs," and the judges handling his cases that they no longer make much news. So he has to find new ways and new targets to rile up his troops.
But none of these stories come from media speculation or unnamed sources. The former president is proudly telling the world that he would seek payback in a second term, getting even for the injustices he believes have been inflicted on him.
CLICK HERE TO GET THE FOX NEWS APP
Voters can decide whether to factor that into their calculations in 2024.
Howard Kurtz is the host of FOX News Channel's MediaBuzz (Sundays 11 a.m.-12 p.m. ET). Based in Washington, D.C., he joined the network in July 2013 and regularly appears on Special Report with Bret Baier and other programs.