Italian Prime Minister Giorgia Meloni penned a letter to German Chancellor Olaf Scholz slamming Berlin for helping to fund migrant charity groups operating off the coast of Italy.
"I have learned with astonishment that your administration — without coordinating with the Italian government — has allegedly decided to support with substantial funds non-governmental organisations engaged in the reception of irregular migrants on Italian territory and in rescues in the Mediterranean Sea," Meloni's letter stated, according to a report from Reuters Monday.
The letter comes as Meloni has pushed European leaders hard in recent weeks on the issue of migration. Italy has seen a recent surge in migrants that the country's leader believes will push the region to the breaking point.
According to numbers compiled by Reuters, Italy has had 133,000 migrant arrivals on its shores in 2023. That number is up from about 69,800 at the same time last year, putting the country on pace to break its 2016 record of 160,000 migrants entering the country.
ITALY'S CALL FOR NAVAL BLOCKADE MAY BE ONLY WAY TO STEM EUROPE'S MIGRANT CRISIS, EXPERT SAYS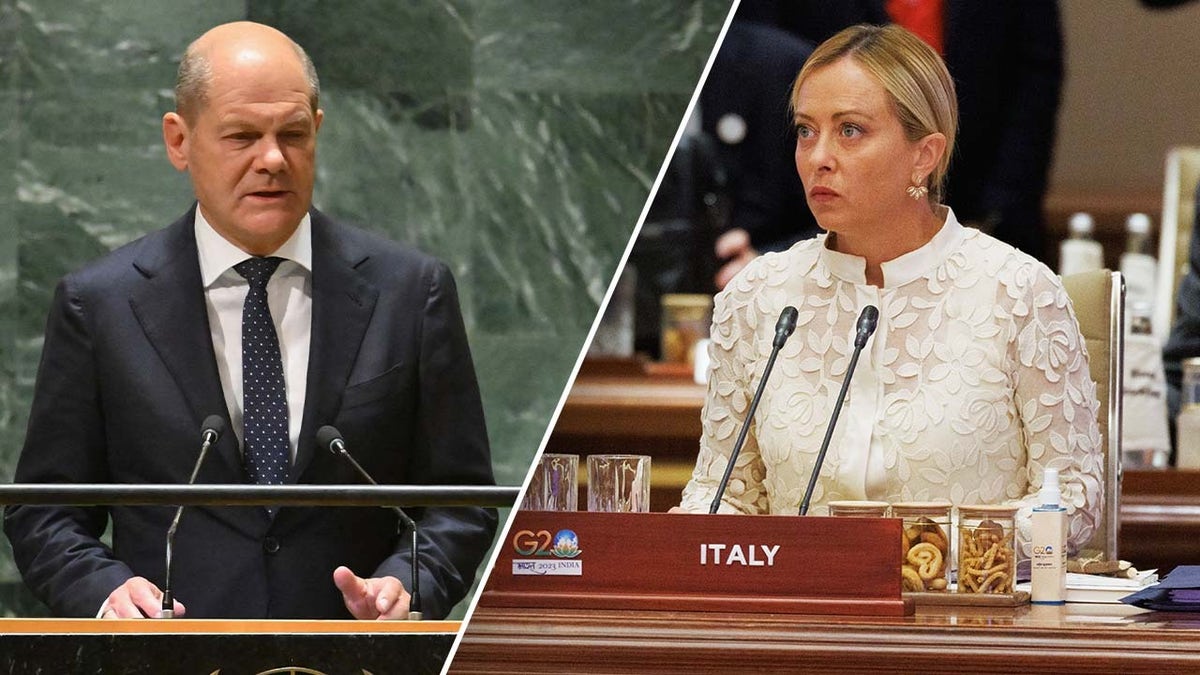 German Chancellor Olaf Scholz and Italian Prime Minister Giorgia Meloni (Angela Weiss/AFP via Getty Images; Dan Kitwood/Getty Images)
Meloni has called on European leaders to create a naval blockade in the Mediterranean Sea to help stem the flow of migrants, arguing such a move was the only "serious" way the continent could push back against the crisis.
"What is at stake is the future of Europe because the future of Europe depends on its capacity to deal with the huge challenges of our time," Meloni told reporters last week.
European Commission President Ursula von der Leyen responded by vowing support for Italy, which pledged a crackdown on the "brutal" migrant smuggling business.
"Italy can count on the European Union," von der Leyen said.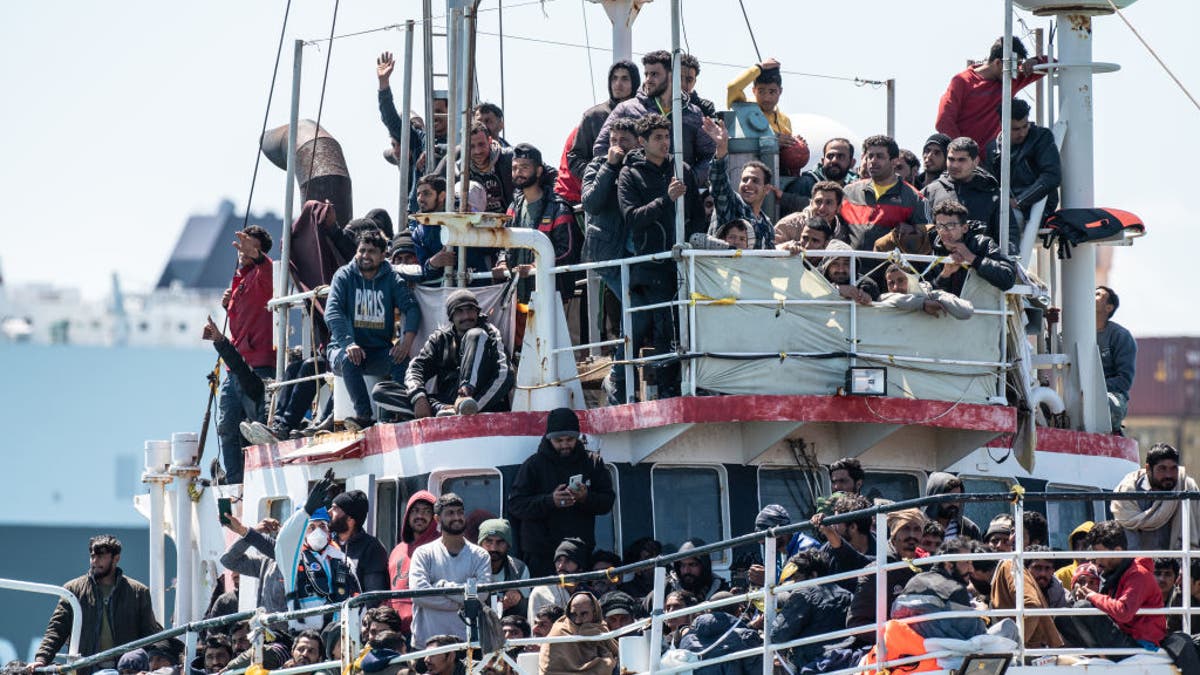 Migrants aboard a fishing boat arrive at the port of Catania. (Fabrizio Villa/Getty Images)
But Nile Gardiner, director of the Heritage Foundation's Margaret Thatcher Center for Freedom, told Fox News Digital last week it is unlikely Italy will find much help from other European countries.
"The scale of the crisis is huge. … Meloni is one of the toughest leaders in Europe on illegal migration, but she is finding herself overwhelmed by the sheer scale of the crisis, and it's only going to get worse," Gardiner said.
TINY ITALIAN ISLAND OVERWHELMED WITH THOUSANDS OF MIGRANTS WHO ARRIVED WITHIN 24 HOURS
Gardiner believes it will be up to Meloni to "take decisive action to defend Italian sovereignty," arguing it will be up to the Italian navy to police the seas around the country.
"That's the only thing that they can do. If they're going to wait for the European Union to do something, Italy is going to be facing vast numbers of illegal migrants flooding the country," Gardiner said. "The Italian Navy is not on par with the British Navy, or the French, but it still has the capability to block migrant vessels from coming over."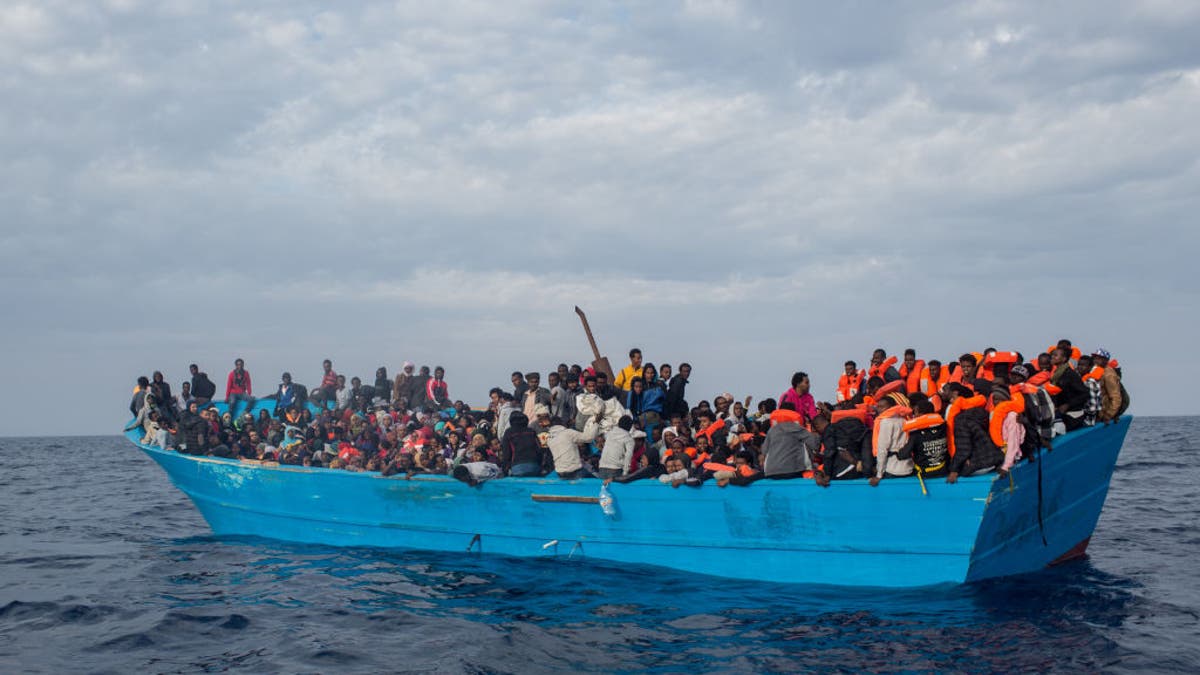 Refugees and migrants put on life jackets distributed by rescue crews of the Migrant Offshore Aid Station (MOAS) Phoenix vessel. (Chris McGrath/Getty Images)
CLICK HERE TO GET THE FOX NEWS APP
A spokesperson for the German foreign ministry told Reuters that helping to rescue people at sea is a "legal, humanitarian and moral duty."
But Meloni argued in the letter that financial efforts of European countries should be focused on supporting Italy and slowing the migrant crisis.
"I believe that the efforts, including financial, of EU nations interested in providing concrete support to Italy should rather focus on building structural solutions to the migration phenomenon," Meloni said.