2 min ago
Taylor Swift came up during questioning. Here's what Paltrow had to say
Attorney Kristin VanOrman from Terry Sanderson's team asked if the $1 that Gwyneth Paltrow is seeking in damages was inspired by a 2017 case involving singer-songwriter Taylor Swift.
VanOrman asked Paltrow whether or not the damages she was seeking was symbolic, to which Paltrow answered: "It's symbolic because the damages would actually be more."
Van Orman then suggested Paltrow was seeking that amount, based on a similar gesture by Swift. The pop star won a lawsuit in 2017 against radio host David Mueller, who she had said groped her at a meet-and-greet event in June 2013. Mueller was required to pay $1 in damages.
But Paltrow said Friday that she had not been aware of Swift's case at the time.
"Are you good friends with Taylor Swift," VanOrman asked. Paltrow answered, "No."
"I would not say we're good friends," Paltrow said. "We are friendly. I've taken my kids to one of her concerts before, but we don't talk very often."
Terry Sanderson's legal team tried to use previous media appearances in which actress Gwyneth Paltrow discussed being clumsy to discredit her testimony, but the judge ultimately would not allow it.
"Would you agree that you are accident-prone?" attorney Kristin VanOrman asked Paltrow, at which point the judge and the two legal teams paused for a bench meeting.
It had apparently renewed a debate between the two sides, which the judge had already considered, on whether Sanderson's lawyers could raise the interviews in an effort to discredit Paltrow's testimony.
"Let's say she's clumsy, there's been no testimony that clumsiness in any way contributed to the accident," the judge told VanOrman, as they discussed the issue again in court.
VanOrman said it was relevant because Paltrow has been asked multiple times under oath whether she is accident-prone and said she wasn't. But, the attorney claimed, Paltrow "has admitted a number of times that she is (accident-prone)."
Therefore "this is all impeachment evidence," VanOrman said, referring to the legal process of undermining a witness' credibility.
The interviews in question: VanOrman said her team had submitted evidence of Paltrow's self-professed clumsiness, including several articles and a video.
In that clip, the attorney said, "Ms. Paltrow went on (late night show) 'Jimmy Kimmel,' saying: 'Yes, I am accident-prone, I am always running into things.'"
"We believe that's exactly what she did, is she ran into things, like she always does," VanOrman said.
Paltrow's team responded, expressing frustration and saying the opposing legal team had already made this case to the judge and had their request to use the articles and video rejected.
Ultimately, the judge said Sanderson's team had not sufficiently proven Paltrow's clumsiness played a role in the crash, and said the argument would not be considered.
25 min ago
"I feel very sorry for him." Paltrow testifies that she has empathy for man involved in collision
Gwyneth Paltrow said she does feel empathy for Terry Sanderson, the man she collided with on a ski slope in 2016.
"I feel very sorry for him. It seems like he's had a very difficult life, but I did not cause the accident so I cannot be at fault for anything that subsequently happened to him," she testified.
Asked by her lawyer if she caused tension between Sanderson's family members that his daughter testified about earlier in the day, Paltrow said, "I did not cause that."
She also testified that she did not give Sanderson brain injuries that showed up on an MRI in 2006.
30 min ago
Paltrow says she thinks lawsuit against her is unfair
Actress Gwyneth Paltrow said that she feels it is unfair that Terry Sanderson is suing her over a 2016 ski crash.
Sanderson has accused Paltrow of colliding with him and breaking four of his ribs and causing a traumatic brain injury with lasting effects.
Paltrow has filed a countersuit, claiming Sanderson crashed into her.
On the stand Friday, Paltrow confirmed that she is bringing the counterclaim for $1.
During a line of questioning from Sanderson's lawyer, she said this is mostly symbolic because the amount of damages would be much more.
Paltrow talked about losing half of a day skiing because of the collision when she paid for a full-day pass.
38 min ago
Paltrow says she did not ask about the condition of Terry Sanderson after the collision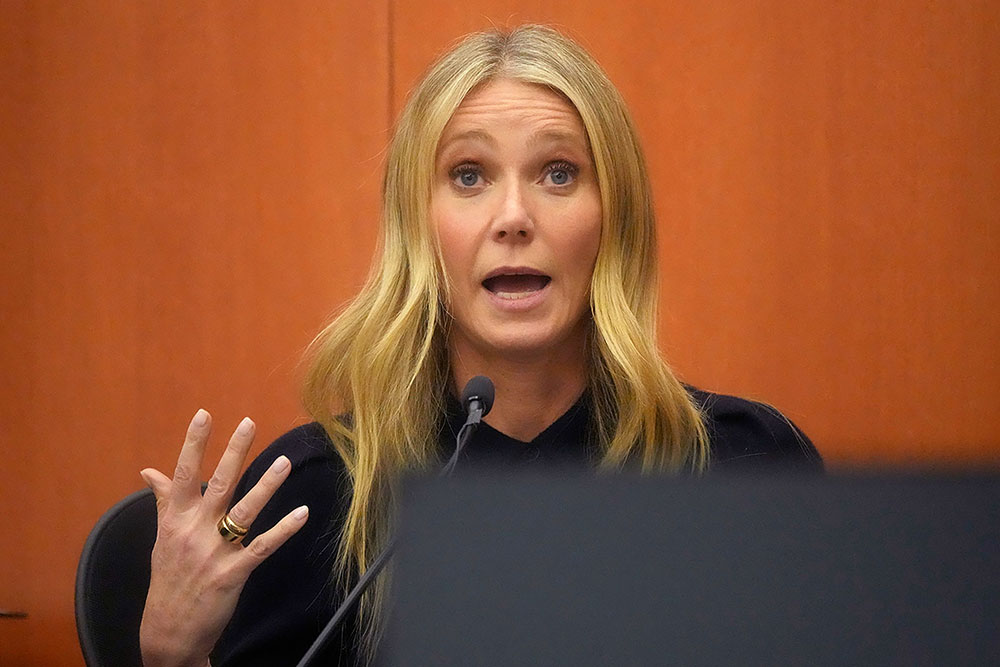 Gwyneth Paltrow testifies during her trial on Friday, March 24, in Park City, Utah. (Rick Bowmer/Pool/AP)
Gwyneth Paltrow said she did not ask about the condition of Terry Sanderson after they collided while skiing in Utah in 2016.
"I think you have to keep in mind when you're the victim of a crash, right, your psychology is not necessarily thinking about the person who perpetrated it," Paltrow testified.
When asked if she asked anyone at Deer Valley Resort, where the crash happened, if he was hurt, Paltrow said, "I did not because at the time I did not know that he had sustained injuries like that. I thought it was very minor on the day."
She said she stayed on the mountain "long enough for him to say that he was OK" and to stand up. Paltrow testified that she could not tell if Sanderson was unsteady.
30 min ago
A lawyer acted out the ski crash after the judge rejected her request to have Paltrow play the role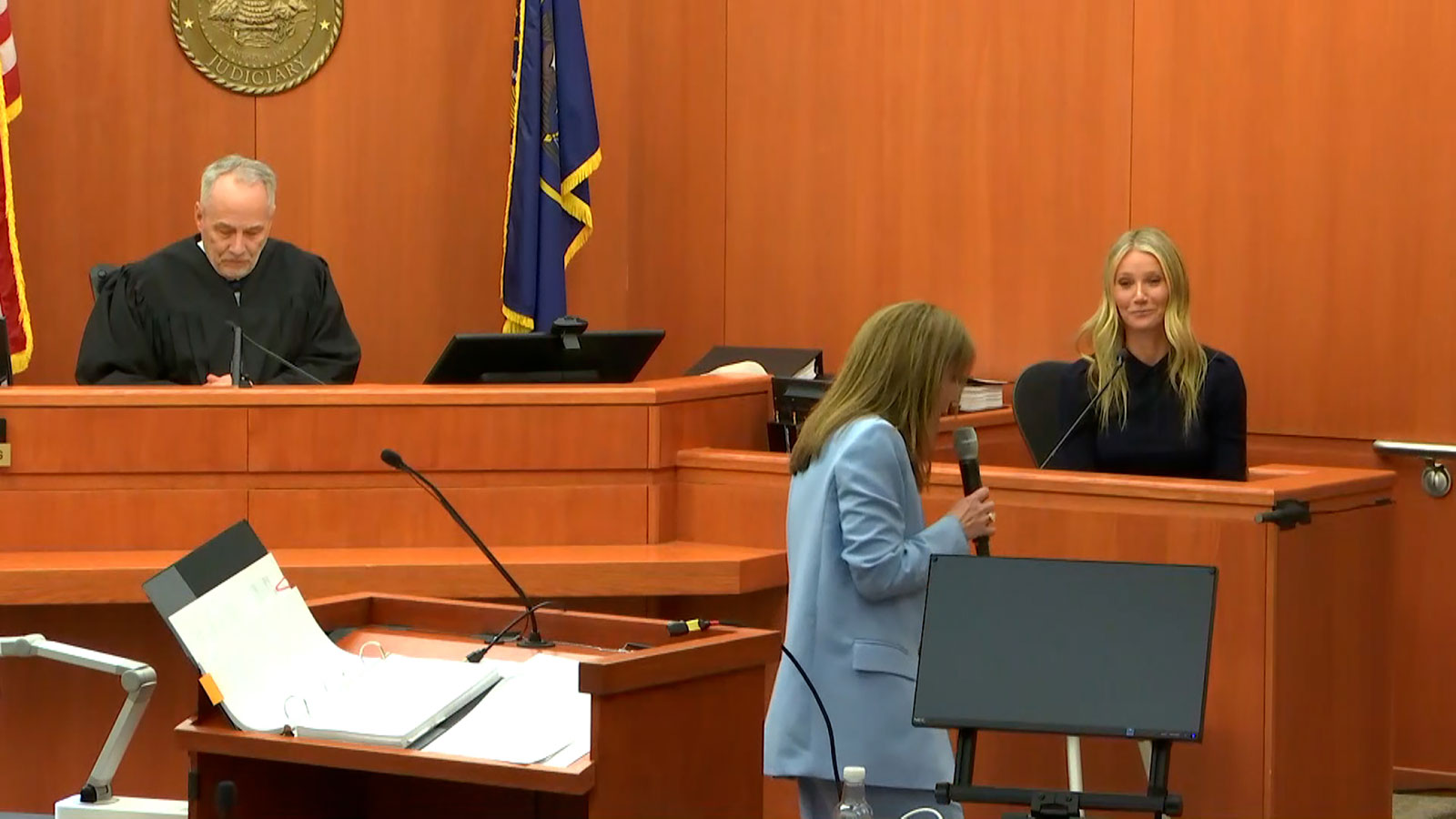 Attorney Kristin VanOrman, center, reenacts the ski crash in court on Friday. (Pool/Court TV)
A lawyer from Terry Sanderson's defense team had hoped to use Gwyneth Paltrow in a courtroom reenactment of the ski crash but settled for portraying Paltrow herself when the judge rejected the idea.
"Because we did this over video, we didn't really get to act it out a whole heck of a lot," attorney Kristin VanOrman told the actress, of her initial interviews on the collision.
VanOrman asked Paltrow if she wouldn't mind stepping down and "kind of acting this out a little bit," but after a sidebar with both legal teams, the judge said the actress would not be participating.
"The court doesn't mind if I act it out, correct?" the lawyer then asked.
The judge said he would permit that, but promptly rejected a pitch from Sanderson's team for the retired optometrist to play himself in the reenactment.
VanOrman grabbed a hand-held mic and modeled the way Paltrow was skiing down the hill, asking the actress questions about the positioning of her skis and the moment of the collision.
1 hr 5 min ago
Paltrow says Sanderson's skis came in between hers and he was making a "grunting noise"
An attorney for Terry Sanderson, the man suing actress Gwyneth Paltrow over a skiing collision in 2016, reenacted what happened during the crash in court Friday.
Paltrow testified that she was trying to figure out what was happening in the moments during and directly after a collision with Sanderson, describing him as making grunting noises.
She testified Friday that two skis came in between her skis, forcing her legs apart and then "there was a body pressing against me and there was a very strange grunting noise."
Kristin VanOrman, Sanderson's lawyer, walked around the courtroom trying to demonstrate where the skis were and how Paltrow and Sanderson were positioned, based on how Paltrow described the incident. Paltrow directed VanOrman on the stance of her feet, for example.
"My brain was trying to make sense of what was happening. I thought, 'Am I... is this a practical joke? Is someone, like, doing something perverted?' This is really really strange," she said in her testimony.
Paltrow said at that point she didn't know if it was an accident and she froze.
They both came crashing down together, Paltrow said, confirming that her knee and both of their skis were tangled up. In her deposition, being read by the lawyer, Paltrow said "our bodies were almost spooning and I moved away quickly."
1 hr 19 min ago
Paltrow: "I was skied directly into by Mr. Sanderson"
Answering an initial round of questioning from a member of Terry Sanderson's legal team, Gwyneth Paltrow repeated her assertion that Sanderson skied directly into her back and caused the collision.
"He struck me in the back, yes, that's exactly what happened," Paltrow said, as the lawyer read back a portion of her description of the events from a deposition.
"I was skiing and looking downhill, as you do, and I was skied directly into by Mr. Sanderson," the actress and businesswoman said, speaking from the stand in a Park City, Utah, courtroom.
Sanderson, 76, has accused Paltrow of causing the crash and seriously injuring him.
1 hr 30 min ago
Paltrow was skiing with her now-husband and children on the day of the collision
On the day of the ski collision with Terry Sanderson, actress Gwyneth Paltrow was skiing with her two kids as well as with Brad Falchuk – who was her boyfriend at the time, now her husband – and his two kids, she testified on Friday.
The family was on a trip at Deer Valley Resort, where they have been twice before the crash, Paltrow said. The collision happened on the first day of their trip, she said.
All of the children, who are around the same age, took ski lessons, Paltrow said. She testified that while she didn't recall the exact amount, these lessons cost several thousand dollars for all of the kids, plus tips.
When asked if she was a good tipper, Paltrow answered, "yes."