By Federico Lombardi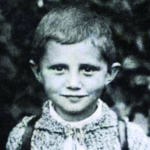 Joseph Ratzinger was born on April 16, 1927, in Marktl am Inn, Bavaria. Joseph came into the world into a Bavarian family of deep-rooted Catholic tradition and modest circumstances – his father, also named Joseph, was a policeman, and his mother Maria was a housewife, but occasionally worked as a cook for the sake of the family budget. He was the third and last child, being preceded by his sister Maria and brother Georg.
Joseph's childhood unfolded in a basically normal and happy manner, with the family moving to different locations in Bavaria as a result of his father's service assignments: after Marktl am Inn, in 1929 to Tittmoning (which would remain for Joseph the land of childhood dreams and happy times), in 1932 to Aschau, in 1937 to Traunstein. Here in 1939, at the age of 12, Joseph entered the archdiocesan seminary, where he had been preceded by his brother Georg. These were the years which saw the rise of the Nazi regime; Joseph felt the approaching storm in the air, but he lived through it, protected by the deeply Catholic environment of the Bavarian province where the anti-Nazi attitude was widespread, though not militant, and by his family.
He began to directly feel the pinch of the onset of Nazism when the seminary was requisitioned shortly after his entry and he was forced to enroll in the Hitlerjugend (the Hitler Youth), but he did not participate in its activities. At 16, in the depths of World War II, he was assigned to anti-aircraft duty in the city of Munich. He was a soldier, but with other seminarians he could continue his studies, attending classes at a city gymnasium.
In September 1944, he was discharged from the anti-aircraft unit and sent to Burgenland – on the border of Austria, Hungary and Slovakia – for labor service and then, following an illness, to the Traunstein barracks. In the confusion of the final months of Germany's collapse, he deserted and returned home, but upon the arrival of the Americans he was considered a prisoner of war and taken, along with 50,000 others, to an open-air prison camp under harsh conditions near Ulm. Finally freed, he was home again on June 16, 1945.
Joseph came into the world through a Bavarian family of deep-rooted Catholic tradition and modest circumstances
Through all these events, his vocation to the priesthood remained solid. Although institutions were still in a precarious condition, Joseph resumed his studies in Munich and Freising. He prepared for the priesthood with mature spiritual discernment and entered deeply, with gusto and passion, into the world of theological studies, favored by the proximity and guidance of personalities of first-rate cultural and spiritual stature. This is the time when familiarity with the thought of St. Augustine was born in him, becoming his point of reference, his favorite and fundamental author. He was also able to engage in fascinating readings of great contemporary theologians, such as Henri de Lubac.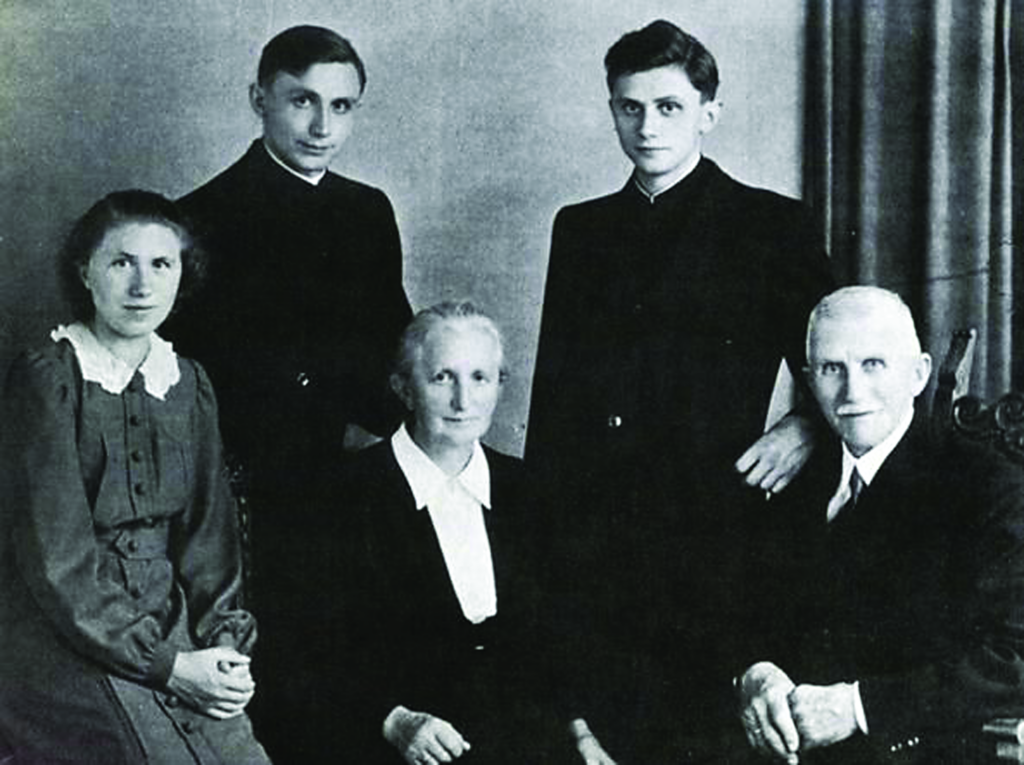 Joseph Ratzinger – top right – with his brother Georg and his family in 1951. Seated are his sister, Maria, and his parents, Maria and Joseph
On June 29, 1951, Georg and Joseph were ordained priests in Freising Cathedral by Cardinal Michael von Faulhaber, Archbishop of Munich. This was a milestone in the course of his life. Although strongly attracted to theological research and teaching, the priesthood would always remain for Joseph a primary dimension of his vocation. He lived it with joy, gratitude and a great sense of responsibility, uniting in a vital synthesis liturgical service, the ministry of the Word, and pastoral care with a depth of cultural reflection.
After ordination, the new priest was assigned to a year of parish work in a Munich neighborhood, close to a very zealous parish priest. He performed his duties with such commitment and zeal that he would remember it, many years later, as "the best time of my life."
Federico Lombardi, SJ, a former director of the Vatican Press Office (2006-16), wrote "Benedict XVI: In Memoriam," which appeared on LaCiviltaCattolica.com on December 31, 2022. We quote Federico Lombardi's article here and throughout this special "Benedict XVI" issue of ITV.