The substitutes Abdelhamid Sabiri and Zakaria Aboukhlal scored as Morocco stunned Belgium with a deserved victory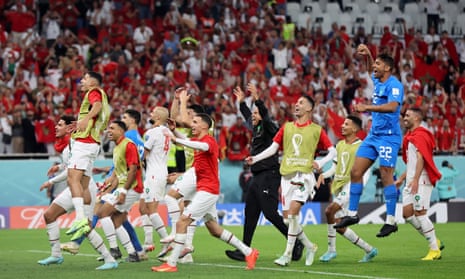 Morocco players celebrate after the match. Photograph: Amr Abdallah Dalsh/Reuters
Morocco players celebrate after the match.

Photograph: Amr Abdallah Dalsh/Reuters
Live feed
Key events
Andy Hunter has filed his match report. I'll leave you with that, and don't forget to join Beau Dure for Croatia v Canada in just over half an hour. Bye!
Roberto Martinez's verdict
It's a difficult result. We couldn't get our game going. It's a game we need to understand; we need to be together and react. That's what happens at the World Cup.

We've been defending free-kicks that way for six years. It's nothing to do [with not having a man on the near post].

We had good moments but we couldn't create clear chances. If you concede a goal like that changes the game radically. We lost our composure and we couldn't break them down. The game went away from us the moment we conceded the first goal.
The shocks so far
No World Cup since 2002 (at least) has had as many surprise results in the group stage. Here they are in full:
Argentina 1-2 Saudi Arabia

Germany 1-2 Japan

Japan 0-1 Costa Rica

Netherlands 1-1 Ecuador (is that a shock?)

Belgium 0-2 Morocco

England 6-2 Iran
"I'm at Midi station in Brussels and the place has gone batshit," says David Johnson. "Seems joyous at the moment."
The state of play in Group F
Morocco 4pts, GD+2

Belgium 3pts, -1

Croatia 1pt, 0

Canada 0pts, -1
Next!
The substitutes Abdelhamid Sabiri and Zakaria Aboukhlal scored the goals, reward for a second-half performance full of purpose, style and intensity. Sofiane Boufal and Hakim Ziyech was also terrific, and the defence – which still hasn't conceded a goal under Walid Regragui – restricted Belgium to only one decent chance. Belgium had most of the ball, but too much of it was no-risk passing near the halfway line. They ended up passing themselves to sleep.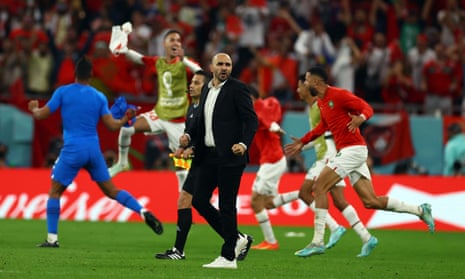 Morocco coach Walid Regragui celebrates after the match.

Photograph: Kai Pfaffenbach/Reuters
Full time: Belgium 0-2 Morocco
Portugal 1986, Scotland 1998, Belgium 2022: Morocco have won only their third match at the World Cup, and they'll remember this one until the end of their days.
90+6 min There's every chance this group will come down to goal difference, so that second from Aboukhlal could have significant implications.
90+5 min Sabiri is booked for a foul on Vertonghen.
90+4 min The result is a fair one. Belgium have been all hat and no cattle.
El Mohamedi's long goalkick was headedon by Hamdallah and ricocheted off a couple of players on the edge of the area. Ziyech seized upon the loose ball, swerved away from Castagne and cut the ball back towards Aboukhlal at the near post. He sorted his feet out beautifully and clipped a first-time shot into the roof of the net.
GOAL! Belgium 0-2 Morocco (Aboukhlal 90+2)
Zakaria Aboukhlal seals a glorious victory for Morocco!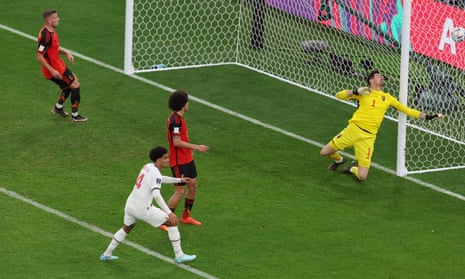 Aboukhlal scores after neat work from Ziyech.

Photograph: Molly Darlington/Reuters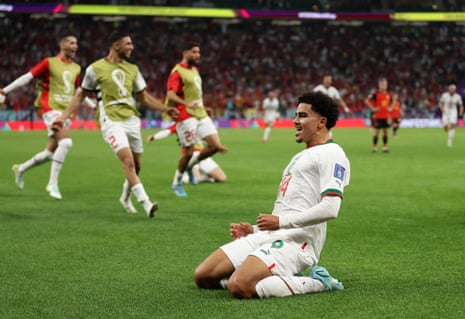 Aboukhlal celebrates scoring Morocco's second goal.

Photograph: Matthew Childs/Reuters
90+2 min Alderweireld's straight pass goes through to El Mohamedi. Jeez, Belgium have been desperate.
90+2 min "There's a massive Moroccan community in Brussels, mainly in Molenbeek," says Blaise Baquiche. "If they win, the streets will be popping!"
90+1 min After another good break from Morocco, Hamdallah's deflected shot from a tight angle hits Courtois and goes behind for a corner. There will be five minutes of added time.
90 min Lots of Belgium pressure, as you'd expect, but I can't remember the last time they had a clear chance. Morocco, who are on course for a sixth successive clean sheet, have defened admirably.
88 min Mertens flips a cross towards Lukaku; it's overhit and runs out of play. Morocco are so close to an immense victory, one that would sit proudly alongside Portugal 1986. "It's Khairi again!"
88 min Belgium have scored in 51 of their last 52 games.
87 min "Holy cow Rob," says Peter Oh. "Where was this Courtois in the last Champions League final?!"
86 min De Bruyne stabs a good pass into Mertens in the area, but he's tracked all the way and calmly dispossessed by Aguerd.
85 min Almost a second for Morocco on the break. Ziyech's return pass to Hamdallah is slightly too heavy, which allows Trossard to play last defender and clear the danger.
82 min De Bruyne's outswinging corner is met by Vertonghen, who leans over Aguerd near the penalty spot and heads a few yards wide. It was a decent effort because Aguerd ensured he couldn't get a clear run at the ball.
81 min: Belgium substition. Here he is: Romelu Lukaku, who hasn't played for a month, replaces Thomas Meunier.
81 min Ziyech and Witsel both go for a high ball and end up hurting each other. There was nothing cynical in it, however, and it's just a free-kick to Belgium.
81 mim Here's Sabiri's goal.
79 min As it stands, Morocco are top of the group, and Belgium are in all sorts. I'm getting well ahead of myself – that's what World Cups are for – but their last game against Croatia could effectively be a knockout tie. Both finished on the podium in Russia four years ago.
78 min Another change for Morocco: Azzedine Ounahi is replaced by Jawad El Yamiq.
77 min There's a cat among those bloody pigeons!
75 min: Double substitution for Belgium Leandro Trossard and Charles De Ketelaere replace Thorgan Hazard and Michy Batshuayi.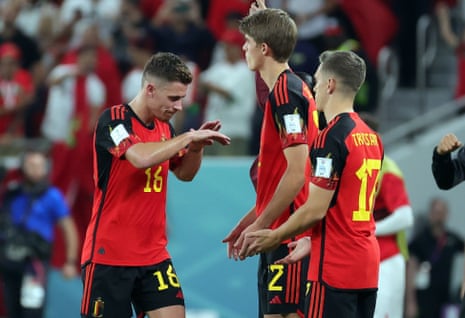 Thorgan Hazard,is replaced by Leandro Trossard.

Photograph: REX/Shutterstock
The free-kick was close to the corner flag on the left, and everybody expected a cross. The substitute Abdelhamid Sabiri instead curled it at pace towards the near post, where Courtois was again put off by Saiss and then beaten by the dip on the ball. This time Saiss was onside, so the goal stands!
That's a pretty bad mistake from Courtois, whose positioning was all wrong. He also put his weight on his left foot, assuming a cross, and was caught out when Sabiri whipped it towards goal.
GOAL! Belgium 0-1 Morocco (Sabiri 73)
Morocco have scored again from a wide free-kick, and this time it might actually count!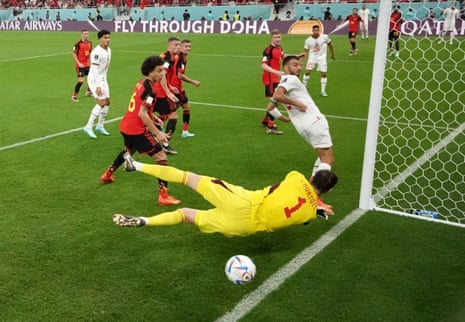 Sabiri scores for Morocco.

Photograph: Matthew Childs/Reuters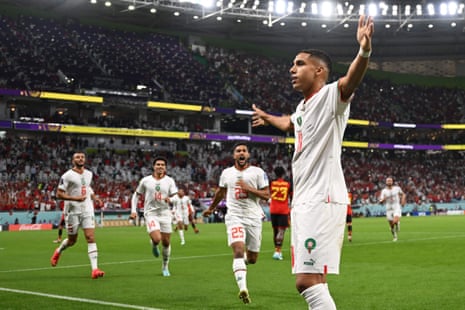 Sabiri celebrates.

Photograph: Manan Vatsyayana/AFP/Getty Images
72 min Meunier gives away a needless foul near the corner flag on the Moroccan left. Before it is taken, Moroccan make a double change: Abderrazak Hamdallah and Zakaria Aboukhlal for Youssef En-Nesyri and Sofiane Boufal, who is understandably fuming at being taken off. He's been brilliant.
71 min De Bruyne, who started as a kind of false seven (I know, I know) is now playing as the left-sided No10. I'd love to see his face if he gets the player of the match award today, because he's done almost nothing.
71 min "Re: Roberto Martinez, I've been watching Everton for about ten years now and can state with certainty that Martinez's Everton played the most dynamic, attacking, and exciting football of any of the club's managers in that time, including a 3-0 demolition of Arsenal in 2014 that briefly put Everton in the top four and still remains the best I've ever seen them play," says Matt Burtz. "However, by the end of his stint they were leaking goals at the back, with the nadir being a Goodison loss to Stoke where they somehow contrived to go from 3-2 up to 4-3 down in the last ten minutes. I suppose my point is that with Martinez you have to take the good with the bad."
70 min Morocco are the better team at the moment.
69 min The Moroccan fans encourage Ounahi to shoot from 30 yards, and instantly regret it.
68 min: Double change for Morocco Attiyat Allah and and Abdelhamid Sabiri replace Achraf Hakimi, who was doubtful for this game with a thigh injury, and Selim Amallah.
66 min Batshuayi's deflected shot is comfortably saved, though again there was an offside earlier in the move.
65 min: Good save from El Mohamedi! This is really good stuff now. Mertens zig-zags past two players on the edge of the D and hammers a disguised shot that is well saved by El Mohamedi, falling to his right. He pushes it out in front of goal and is relieved that it doesn't fall for Batshuayi.
64 min Boufal beats two defenders in a phonebox on the left wing, a thrilling act of escapology, but then overhits his cross. Morocco regain possession, with Hakimi booming a cross beyond the far post. Boufal does superbly to keep it in play and volley it first-time towards En-Nesyri in the six-yard box. He is readying himself for glory when the stretching Alderweireld heads clear.
63 min An imaginative through pass from De Bruyne almost releases Mertens, though it wouldn't have counted because Batshuayi was offside earlier in the move.
61 min Ounahi mishits a long-range shot well wide.
60 min: Double substitution for Belgium Youri Tielemans and Dries Mertens replace Amadou Onana and the sadly ineffective Eden Hazard.
59 min I've just realised that Belgium have switched to a back three, with Castagne as the left-sided centre-half and Meunier and Thorgan Hazard as the wing-backs.
58 min "The VAR paradox," says Mac Millings.
"1. VAR was introduced to reduce clear and obvious errors.
2. The introduction of VAR was a clear and obvious error."
57 min: Just wide from Boufal! This game is livening up all right. Boufal controls Ziyech's crossfield pass on the chest, shimmies elegantly away from Meunier on the left edge of the area and shapes a curling shot that bounces just wide of the far post. Courtois might have saved it had it been on target, but I wouldn't bet the farm on it.
57 min In short, at this stage it's possible five points won't be enough to go through. If this stays 0-0, Belgium will have four and Morocco two.
56 min If it stays like this… I'll get back to you after Croatia v Canada.
54 min The game might be starting to open up. Onana plays a good long pass to release Meunier on the right, but his cross is poor and Morocco clear.
53 min "I suppose if we have to take away any technical advances from this World Cup, then it's the much more aesthetically pleasing VAR pictures of offside," says Charles Antaki. "Now that we're getting side-on images with the background cropped out, it makes the screen-grab with red/green lines seem quaintly old-fashioned."
We've come a long way since 2018.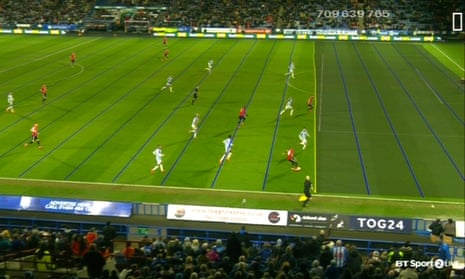 Etch A Sketch: fun for all the family.

Photograph: BT Sport
52 min Eden Hazard produces some familiar sleight of hip to beat Ounahi on the right edge of the area. Then he hits a stinging drive that is pushed round the near post by El Mohamedi, a good if fairly comfortable save. The resulting corner is headed well wide by the leaping Onana.
Newest
Newest
Previous
Next
Oldest
Oldest